On September 3, 2019, the 2019 International Inspection and Testing Technology and Equipment Expo (CITTE2019) opened at the Shanghai New International Expo Center. CITTE2019 is sponsored by the China Entry-Exit Inspection and Quarantine Association, and has attracted thousands of domestic and foreign testing equipment companies, related laboratories, third-party testing agencies and other related representatives to participate in the exhibition. The CITTE 2019 inspection fair takes the theme of "accurate inspection, standard escort, and quality improvement" to fully showcase the new products, technologies and research and development achievements of the inspection and inspection industry at home and abroad. At this exhibition, Shenzhen Boda Jingke Biotechnology Co., Ltd. appeared on CITTE2019 with star products such as multi-point magnetic stirrers, and won wide acclaim.

Shenzhen Boda Jingke Biotechnology Co., Ltd. (hereinafter referred to as: Boda Jingke) is a technology company committed to the development and application of advanced materials. Boda Jingke was established in 2013. The company is mainly engaged in the development and application of advanced materials. The research and development projects include new nano-thermal materials, which are widely used in industrial, medical, scientific research laboratories and other fields. At present, there are more than 20 categories of products from Boda Jingke, which have been put on the domestic market and the international market, and have a certain popularity.
HMS-5 / 10/15 multi-point series digital display type magnetic stirrer
According to the on-site staff, the HMS series multi-point digital display magnetic stirrer has 5 working positions, 10 working positions and 15 working positions, with and without heating function, which can meet different needs of customers. The heating module uses nano-thermal energy technology, fast heating, large heating area, and uniform heating; it is suitable for experiments such as large-scale sample screening, cultivation, sample concentration, and solvent evaporation. Widely used in medical, biological, petroleum, chemical, environmental protection and other fields, it is a good helper in major, secondary schools, scientific research units, inspection and quarantine, health and epidemic prevention experiments.

 HTL-500EX laboratory new nano heating plate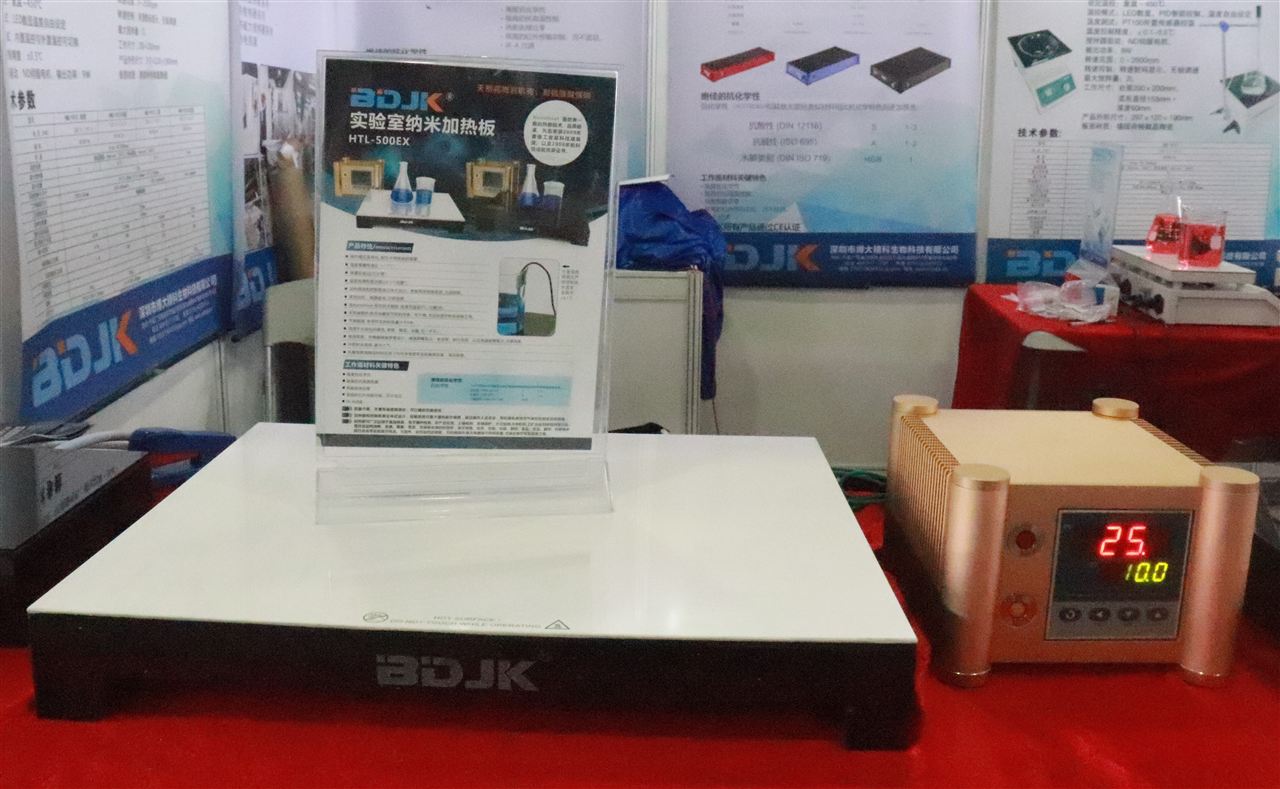 HTL-500EX NanoHeat laboratory nano heating plate has excellent technical quality, and has won the 2009 Hong Kong Industrial Awards for Science and Technology Achievement Award, and the 2008 Certificate of Excellence in Science and Technology. Its surface is made of German glass ceramics, which is resistant to acid, alkali and corrosion; it has uniform heating and constant temperature effect; it only takes 1 second to reach the temperature of 5 ° C and the temperature reaches 400 ° C in 6 minutes. This heating plate is widely used in agriculture, soil, environmental protection, food and other fields.
HMS-901H New Type Nano Electric Heating Jacket
HMS-901H magnetic stirring electric heating jacket is driven by NanoHeat thermal energy technology, no mechanical heating components, no electromagnetic field interference and harm, and ultra-fast heating technology can increase the surface temperature at a rate of 5 ° C per second. HMS-901H can be dry-burned, has over-temperature protection function and over-temperature alarm function, has obtained CE certification, making the experiment safer.

As we all know, in the fierce market competition, especially the scientific research equipment market, if you want to gain a firm footing, you must have strong technological content and product advantages. Boda Jingke is well versed in it, and has worked hard in the high-tech field. It has specialized in laboratory nano-heating plates, multi-point magnetic stirrers, magnetic stirring electric heating jackets and other laboratory instruments. Master the initiative of technological innovation and promote the development of nanotechnology innovation and industrialization. Based on technology, Boda Jingke takes innovation as the basis for development. It is believed that in the future development path, it will surely gain further market and consumer recognition.